Prices for year 2020
The prices indicated above are in euros and without VAT, from Tours (France). Shipment fees are not included (for shipment inside Europe, fees vary from 40 up to 100 euros).
NB: for microphones, cables are not provided. Standard small electric cable (1mm) can be used (shipment of cables is possible but up the price of shipment).

All Materials manages two languages : French and English; and a third is possible but not yet translated.
All disciplines, Up to 15 machines :
All trenchs, skeet, compacks...
Automatic No-bird with limit.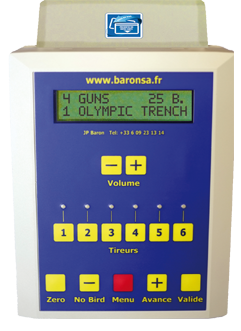 For full installation :
1. A voice trap controller FULL Fitasc

1 500.00€ ht

2. A junction box

155.00€ ht

Option 1 : Radio transmitter

58.00€ ht

Option 2 : Internal smart card reader

63.00€ ht

Option 3 : Videos and lamps (all inclusive)

142.00€ ht

Option 4 : Referee box with cable

100.00€ ht

TOTAL with all inclusive options:

2 018.00€ ht




3. The set of 5 microphones without stand

150.00€ ht

3. The set of 5 microphones with micro, stand and light

565.00€ ht
For a basic installation: ABT, DTL, UT, OT
1. A basic voice trap controller in wire mode

1 300.00€ ht

2. A junction box

155.00€ ht

3. The set of 5 microphones without stand

140.00€ ht

TOTAL :

1 595.00€ ht
IMPORTANT NB : 40 official programs are included for the Compack Sporting. (older or new rules) The Compack programs software can be downloaded for free. This option is not indispensable because the controller already contains 40 compacks with 6 launchers, but it enables you to modify the order of launchings as desired and more quickly than necessary to launch the PC.
Compatible with all launchers and works with the launcher's 12v.
For an ABT, DTL layout:
Le materiel est prêt a être utilisé des reception.
For an economic ABT, DTL installation:
NOTE IMPORTANTE : You must use cables VVF 0.75 with 2 cables for all miccrophones and a cable VVF 1mm 3 or 4G for the launcher.
DATEC Version with launcher selector:

550.00€ ht
Connect this box on place of your DATEC to use all micros open and choice your launcher with the button to work.

Very usefull for training or new shooters.
Up to 64 channels 8 machines with increase or decrease mode.
Long range transmitter :
Remote control

400.00€ ht

Option : Card reader

50.00€ ht

Modes : Increase, Decrease, SKEET, FLUSH

Include
Radio receiver 1 machine :
AM receiver (JPB) with boxes an cables

100.00€ ht

AM receiver (JPB) card alone

58.00€ ht

RFM receiver with boxes an cables

95.00€ ht

RFM receiver card alone

55.00€ ht
Radio receiver 8 machines :
Hourly repair rate

51.50€ ht

Minimum transport costs

25.00€ ht